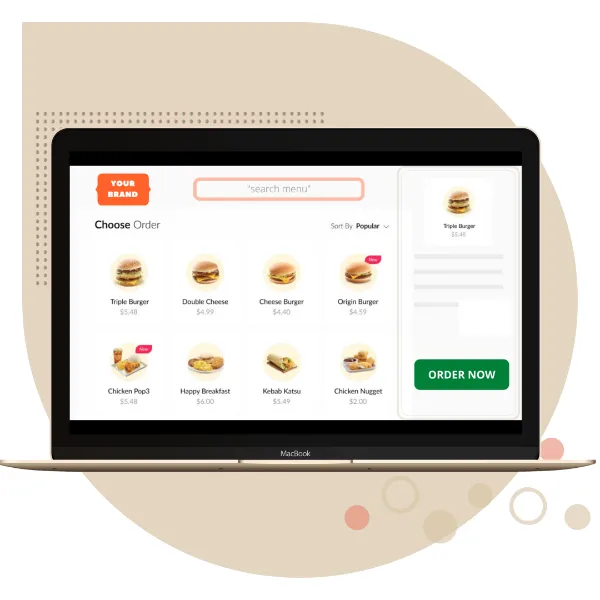 There's a lot of advantages that comes up with an online ordering restaurant system. But first you have to know what an online ordering restaurant system is. An Online Ordering restaurant system can be defined as software/platform that allows restaurant businesses to accept and manage orders placed over the internet. It can be in form website or mobile app for hungry customers to view the restaurant's dishes and place an online order.
5 Great Reasons for Online Ordering System for Restaurant
1. Larger orders
When customers browse your menu online, they are under no pressure to make a quick decision. They also don't have to be the one at the table with the biggest appetite. They can order freely, which often causes them to order more. Many online ordering programs include suggestive cross-selling and upselling, too, so that you can recommend drinks and sides with their purchases. The idea of Online Ordering System for Restaurant is to make the experience as easy and convenient as possible. Many restaurants have increased their average order size through online ordering in comparison with phone orders.
2. Increased order efficiency and throughput
Online ordering can also improve restaurant efficiency because it saves time on the phone and reduces order errors. Phone orders can only be taken one at a time, and it could take several minutes, especially if customers are paying with their credit or debit card. However, the average online order only takes about 30 seconds, and several online orders can be sent to your POS system at once.
3. Improved order accuracy
It is easy for miscommunication to occur over the phone – mispronunciations, background noise, poor service or language barriers can get in the way. When customers place online orders, they can simply check off the items they want. When orders are sent to the POS system, restaurants can read them in black and white with little confusion. And confirmation emails can be sent to the customer to verify their order and payment to reduce confusion on their end, as well. Improved order accuracy leads to improved customer satisfaction.
4. Expanded reach
When customers are able to access your menu outside of your physical restaurant, it opens up many new opportunities. Customers who do not live near you may be more inclined to order from you if they can access your menu online and place their order with the click of a button. Remember: it is not only convenient for customers to order from home, it is enjoyable for them.
Many restaurants make their menus available on a website database, allowing them to expand their reach even further. These websites take a small percentage of commission from your orders, but if the website has thousands of visitors, those nominal costs are outweighed by the benefits. It is difficult for restaurants to build such extensive databases on their own.
5. Customer databases
Online ordering solutions usually require customers to enter their name and email so that they are able to receive an email receipt or email confirmation after they have purchased food. And if they are having it delivered, they must enter their address of course. This information also allows restaurants to create a customer database and leverage it for marketing purposes.
Restaurants can segment their customer lists to send targeted promotional emails to specific locations or demographics. For example, in snowy weather, a restaurant could send an email to customers that live the furthest away, suggesting that ordering delivery would be easier than going out. Restaurants can also measure the click-through rates and conversions of each of their promotional emails to learn which ones are effective and which ones are not.
As society continues to rely on their computers and mobile devices to complete everyday tasks, online ordering will only continue to grow. And although online ordering will not fully replace traditional phone orders in the foreseeable future, it is a necessary add-on to improve the productivity and profitability of your restaurant business.
There are three main ways you can set up an Online Ordering System for Restaurant:
Use your own website,using a website builder or WordPress to process orders.
Use a third party online ordering app, such as Uber Eats.
Use a third party online ordering app combined with a POS system,such as CAKE
1. Using your Own Website
 An online ordering system that lives on your website allows customers to order takeout and delivery from you directly, which means you keep all the revenue. But you also get all the work which include providing menus and accepting orders from your customers. You will be needing a connection to the internet, a website building platform, and a team to deal with orders as they come through. To set it up, build your own restaurant website using a website builder or wordpress, set up deliveries and payments, then launch your site. To get started with WordPress, you need to a find web hosting first – then you can start building. You have total control over your website, from security to design, but this also means WordPress requires more maintenance than a website builder.
Using a Third Party Online Ordering App
Here, you can use online ordering apps such as GrubHub or Uber Eats. They house an extensive list of restaurants, sorted by location and food type, so that customers can browse and order from individual menus on their phone or desktop. A customer places an order, the app forwards the order to you, then their delivery service takes the food to the customer. You will be needing just the basic information about your restaurant for the sign-up form, such as your location, cuisine type, and estimated number of weekly orders. To set it up, go to your chosen app and fill out your restaurant's details to get started! In this there's usually no upfront cost, but the app takes a cut of each transaction.
 Here's how it works once you're partnered with a third-party delivery app:
Once set up, customer orders will go through the app.
The order will be forwarded to you – someone will need to accept the order on the app's tablet – so you can prepare the correct dishes.
You'll also need to manually enter the order into your own POS.
Then, one of the app's delivery drivers will arrive to take the food to the customer.
The main drawback to using a third party app is that they take a cut of your earnings. Some apps, like Uber Eats, also charge a one-time starter or "activation" fee before also taking a service fee as a percentage of your orders. Still, the convenience of using a third party app can't be denied – if you're looking for a quick and easy way to start your restaurant online ordering system, this is a winner!
Use a third party online ordering app combined with a POS system
Here you use a third party online ordering app, along with an integrated POS system such as CAKE or Checkmate. A customer places an order; the app then forwards the order to you, which is entered automatically into your POS without a member of staff having to manually transfer the order. You will be needing an account with a third party app, and one with a POS integration app. Simply go to your chosen integration app, such as Checkmate, and enter your details to get in touch and get started. The cost depends – Checkmate costs $85 per month, while CAKE costs around $69 per month.
If you're planning on using multiple third party apps, or are trying to manage a boatload of orders, then combining third party online ordering apps with POS integration will give you total convenience.
This is where you use an integration app – such as Cake or Checkmate – to act as the middle-man between your third-party app (like Uber Eats) and your POS. 
 You and your customers get convenient online ordering that's easy and streamlined on both sides of the transaction – but at a slightly higher cost. But if you have the volume, the convenience points are worth it.
The Importance of Online Ordering System for Restaurant
More customers
More sales
More efficient ordering and paying
A better customer service
How to Prepare For Online Orders
Think Local
Your regular customers might be pining away for your delicious dishes – so let them know you're delivering! You can do this by posting on social media, or by putting a sign up in your window for people to spot on their daily walk
Also do some research on the top delivery apps in your area. Some are more popular than others in different locales, so it's worth jumping on the most used apps to attract more customers. You should try that out.
Prepare Your Staff
 Mostly, Usually, restaurants have to balance online orders with in-house customers – but with many establishments currently closed to the public, you're unlikely to have to deal with that right now.
Still, it's a good idea to give staff clear roles and responsibilities to help keep the orders flowing and maximize efficiency. Confusion around the process and job roles will lead to mistakes and delays, so make sure everyone is happy with the new system.
Optimize Your Menu
 Think about the food you serve, and what you can realistically manage to send out. You might want to offer a condensed version of your usual menu to make it easier for your team – maybe slim it down to the classic customer favorites, or dishes you think will be easy to eat at home.
Go Social
 Take your system to social platforms. Create pages and groups on Facebook, Instagram, Whatsapp, Twitter etc. They go a long way in publicizing your system.
Advertise it all
 Google adverts and Facebooks ads on pages will help a lot in publicizing your online restaurant. They inform the masses about what you have to offer. Going for an adverts will boost the number of customers patronizing which will result to lots of revenue.